What's Greek for "I Shot The Sheriff?"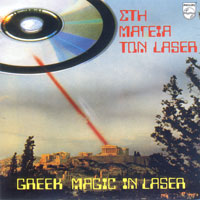 Ron Gerber's Crap From The Past site has a section on early compilation CDs that caught my eye a few weeks ago, so when I was flipping through the 15-for-$10 bins at Rasputin yesterday I was watching for any examples. Sure enough, buried in the cruft was Greek Magic In Laser, a very very early folk song compilation released by Philips in 1983, and a fine example of the short of hackwork graphic design the labels inflicted on the first CD releases. Even the foundation is rotten; discolored stock photography combines with classic 1970s "computer" lettering to makes the whole package look a decade older than it actually is. And no early-80s compilation CD is complete without a Giant Hovering Compact Disc somewhere on the cover, preferably being struck by a laser; no points off here.

But the thing that makes this release extra-special is only revealed when you closely examine the disc pictured on the cover: the tiny numbers on the inner ring of the CD aren't just random, they're the disc's catalog number. And looking up that catalog number, we can see that the Parthenon -- ancient temple of Athena, the Greek goddess of civilization itself -- is being brutally attacked by a rogue copy of Timepieces: The Best Of Eric Clapton.

A statement on Clapton's Athenian stint with The Glands (sometimes known as "The Greek Loon Band")? Or

something darker?

Only the Slow Hand knows for sure.
Home