"Thrashing the Pinto Bean"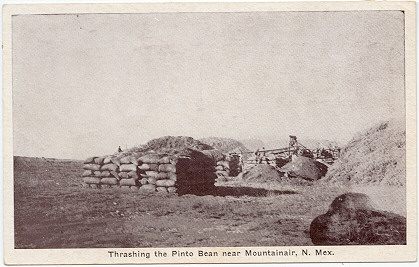 Ladies, I give you a brand new euphemism for the act of self-pleasure. (Postcard found on eBay.)
Media Quote Of The Week.
"Bush told his senior aides Tuesday that he 'didn't want to see any stories' quoting unnamed administration officials in the media anymore, and that if he did, there would be consequences, said a senior administration official who asked that his name not be used." (from The Philadeplphia Inquirer.)
There But For The Grace Of God.
I was flipping through a recent Vanity Fair feature on the royalty while getting ready for wotk this morning, and it occurred to me that the real difference between royalty and us "common folks" is really just one of adjectives.

For example: today I took a shower after I got up, but you know Crown Prince Guillaume of Luxembourg took a bracing shower. I went on a shopping trip up to Berkeley the other night, but you can bet that Princess Marie-Chantal of Greece never goes on anything less than an extravagant shopping trip.

There's a downside, of course. For most of us there's nothing special about an evening spent watching bad sitcoms on television, but for Grand Duke George of Russia, that evening would seem pretty pathetic. When we plebes cut ourselves, we bleed, but your canonical inbred haemophiliac middle-European royal will suffer from profuse bleeding. And while everyone dies, few of us will ever experience the Romanovs' unbelievably violent and gruesome manner of passing.

Of course, it might be worth it if we got to wear those cool sashes.
"I Didn't Even Have To Flush."
If life at Tech had been like this when I was there, I would've stuck it out instead of scampering back home after the first semester.

Actually if I ever decide to finish college I should go back. It's only been nineteen years, surely some of my credits are still good?
You Can Hear The Sound Of The Underground Trains. (You Know It Feels Like Distant Thunder.)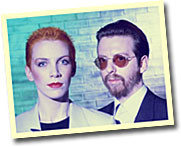 Many of you know this is loooooong overdue: BMG and Dave Stewart have finally remastered most of the Eurythmics back-catalog, with Touch Dance and 1984 the only studio albums omitted. Sweet Dreams (Are Made Of This) was the second or third CD I ever owned and the pressings on store shelves now are still the same thin-sounding LP-EQ'd snapshot of digital nastiness I played on my Sony D5-A portable back in 1985, with the same unreadable artwork and the same ugly RCA CD logo smeared all over the front cover. There are, of course, the requisite bonus tracks (details available in the discog at ethrill.net - The Eurythmics Fanweb), but these'd still be worth picking up without them -- expect to see overseas issues in January.